Downloads
Our download section showcases our latest catalogues, product information and technical info for download as PDF files.
In the product catalogues below, we present our extensive range of connecting elements.
TOB

info
TOBinfo provides you with a quick overview of our product range at a glance. In addition to connecting elements made of A1, A2 to A4 stainless steel, we supply a wide range of other products made of
special materials, such as A5 (1.4571), D6 (1.4462 DUPLEX) and A8 (1.4529 HCR) stainless steel.
With everything available that directly from stock!
TOB

specials
Our TOBspecials brochure showcases our product range for A5 – 1.4571, 1.4529 HCR and 1.4462 DUPLEX special materials.
TOB
products

  A5 | 1.4571

Are you interested in our connecting elements in 1.4571 and A5? DIBt, the technical authority in Germany in
the construction sector, requires 1.4571 for corrosion resistance class III. This material is used wherever connecting elements made of A4 or A5 stainless steel are required. 1.4571 is used in construction projects where freshwater or rainwater contact takes place.
TOB
products

  D6 | 1.4462 DUPLEX

You can find our product range for 1.4462 material here. 1.4462 material (DUPLEX) is prescribed by the DIBt
for corrosion resistance class IV. The DUPLEX material is used in construction projects in an environment that contains chloride or saline water.
TOB
products

  A8 | 1.4529 HCR (1.4539 HCR)

Obtain an overview of our products containing material 1.4529 HCR. 1.4529 (HCR) material represents "the king" of highly corrosion resistant steels and is used in projects in corrosion resistance class V, which is referred to as "very strong". This applies to connecting elements in environments containing a lot of chlorine, such that of swimming pool construction. It is also used in environments where high sulphur dioxide levels exist, such as in road tunnels and urban car parks.
Product Information TOB
product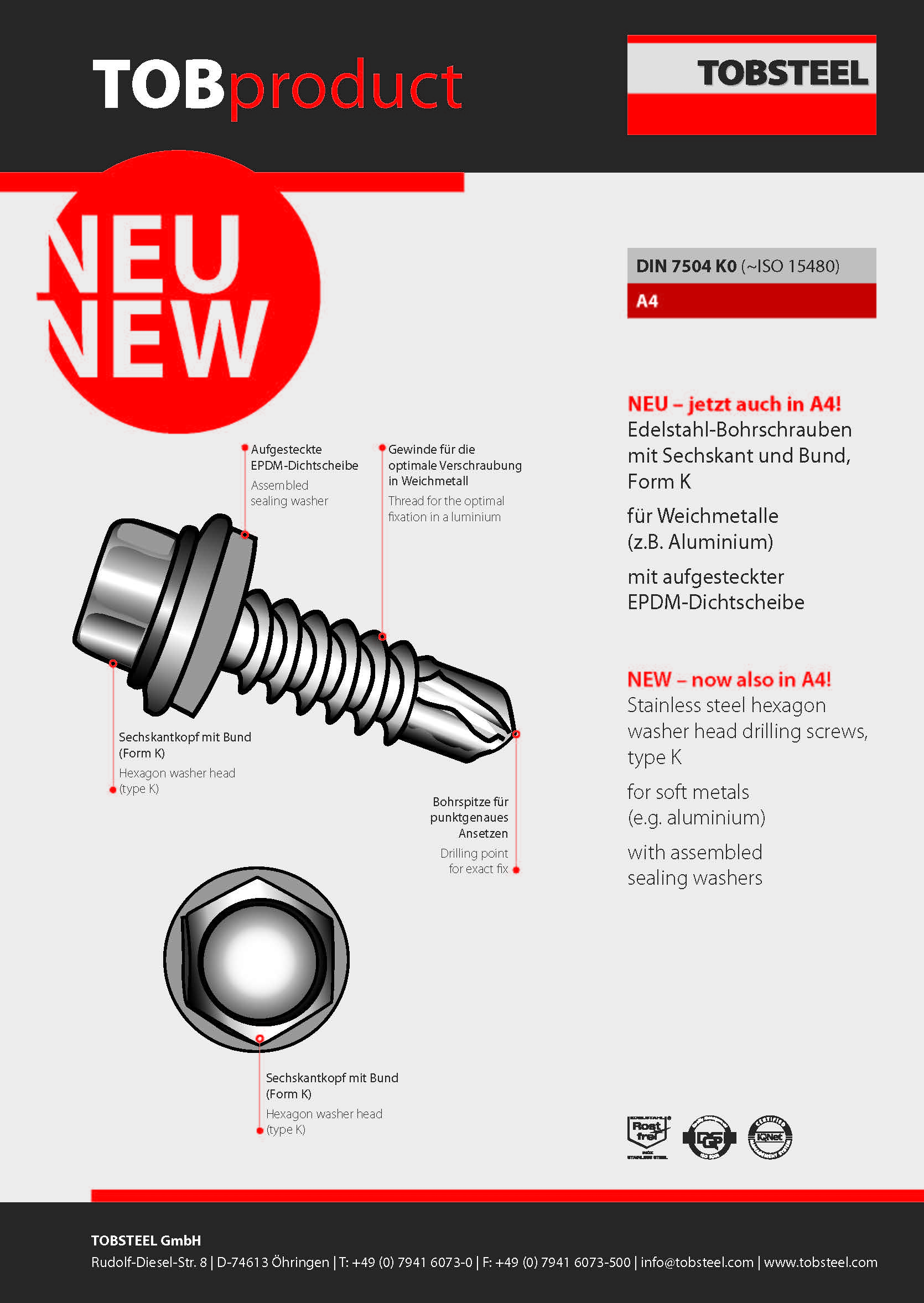 DIN 7504 K0
Stainless steel hexagon washer head drilling screws, type K with assembled sealing washers
Declarations of Performance
All Declarations of Performance for approved timber construction screw products can be found here:
Declarations of Performance for connecting elements with European Technical Approvals:
TOB-TBS Quadra-Speed ART. 9001 terrace construction screws with raised countersunk head, cut drill bit
TOB-HBS ART. 4790/5090 screws with countersunk head, 90°
TOB-HBS ART. 4690/4990 screws with raised countersunk head, 90°
TOB-HBS ART. 4590/4890 screws with round head
TOB-HBS ART. 4790_1 screws with countersunk head, 90°, notch
TOB-HBS ART. 4790_0 screws with pan washer head, notch
TOB-Fast-Drill ART. 4090 screws with countersunk head, 90°, drill bit
TOB-Drill ART. 4490 screws with countersunk head, 90°, drill bit
Product Information Sectors
TOB
products
Here you will find the most important information about our TOP products in the solar technology, facade and window technology, timber construction, offshore, plant and pipeline construction
and tunnel and bridge construction sectors.
Individual screw configurations
TOB
custom
Learn more about the options available to you for individual screw configurations.
Here you can download an overview of our diagrams for drive type, head shape, thread form and screw tip options.
TOB
material
Our material data sheets provide you with all the essential technical information you need about our most important special materials.
Application examples for selection of material and durability
under consideration of DIN EN 1993-1-4:2015-10 / Eurocode 3 – Annex A for load-bearing parts
Selection of the correct steel grade by detrmining the respective Corrosion Resistance Factor CRF and the Corrosion Resistance Class (CRC)
Certificate Quality Management ISO 9001:2015
We are certified according to DIN EN ISO 9001:2015. These specifications define all our processes, are what we live and, of course,
regularly improve upon. This is because only then can we guarantee the high quality standard of our products.