Material 1.4462

– just one step below the "king"
of special materials in stainless steel

If material 1.4529 is our "king" among the special materials, then material 1.4462 is hardly inferior and just one step below it. To stay with the visual language of chess, 1.4462 stainless steel could be considered the "queen" of our special materials due to its versatility. Another name for it is duplex steel or just 1.4462 Duplex. This special material is a stainless, austenitic-ferritic stainless steel. Ferritic stainless steels have a chromium content between 12% and 18% with a very low carbon content of less than 0.2%. The special material demonstrates high strength and good corrosion resistance due to this combination. It is classified in Corrosion Resistance Class (CRC) IV as a result and demonstrates good resistance to intergranular corrosion or pitting.
The combination of the properties of austenite and ferrites in a single material opens up a wide variety of applications. Our customers particularly like to take advantage of our large stock of 1.4462 threaded rods. We can also offer our customers a cutting service for 1.4462 threaded rods on request.
The key properties of material 1.4662 Duplex
This special material combines high strength and very good corrosion properties in a single material. It is also resistant to surface corrosion and pitting. The stability of this duplex steel does not even suffer at higher temperatures or in environments containing sulphur and chloride. The material demonstrates good wear properties in terms of fatigue or erosion. Further beneficial properties of this stainless steel include its good weldability and low thermal expansion coefficient.
The applications for 1.4462 Duplex
stainless steel in connection technology
This two-phase, rust-resistant duplex stainless steel with beneficial mechanical properties offers a wide range of applications in connection technology. It is frequently favoured for use in the immediate splash water area up to 250 meters from the sea.
It is also used, for example, in offshore installations or building facades built directly next to the sea. Connecting elements made of
this stainless steel are also used on oil platforms railings, load-bearing components, stairs and ladders or substructures for helidecks.
In short, this duplex steel is the ideal solution for connecting anything seaside that is attacked by chlorides or salt water.
Products where material D6 | 1.4462 Duplex is used include:
Threaded rods
Hex bolts
Washers
Spring washers
Areas of application for material D6 | 1.4462 Duplex include:
Chemical industry
Oil and gas industry
Petrochemical process plants
Seawater desalination plants
Offshore technology
Pulp and paper industry
Environmental protection systems
Transport industry
General mechanical engineering
Spindles and eccentric screws
Nuclear power and reactor construction
Pump pistons and shafts
Valve parts
and many more
We inform you about the selection of suitable materials available in our section on
Corrosion resistance classes
(CRC).
Besides the other popular stainless steels A2 and A4 we always keep material 1.4462 in stock in our warehouse. This immediate availability sets us apart in the industry. 1.4462 Duplex can be recognized immediately by the colour purple in the practical colour coding system we use in our information documents and on our website.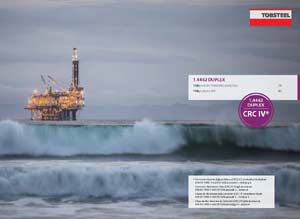 You can download the corresponding material data sheet for material
D6 | 1.4462 DUPLEX along with our product overview here.
Do you have any questions?
Do not hesitate to contact us
if you have any questions about
the properties or applications for
1.4462 Duplex. We will be glad to
advise in detail about this topic.
You can reach us by phone, email
or over our contact form.