EXTREMES ARE OUR EVERYDAY.
Quality without compromise. Connecting elements made of stainless steel and highly corrosion-resistant special materials.
Go directly to our product portfolio
There are as many screws as grains of sand on a beach.
But not every screw can handle the sea and sand.
Adverse environments take their toll. Raw climates, immense forces in buildings or special hygiene requirements – the products used here need to withstand all these extremes, and the material chosen and quality need to fit their purpose without compromise.
A great responsibility for both man and material.
TOBSTEEL is a leading specialist when it comes to stainless steel and special materials for high-quality connecting elements. Extremes are our everyday life, the most adverse challenges are normality for us. Always with the one aim in mind, to transform your requirements into reality, both perfectly and reliably.
And we never settle for just the standard either.
The new TOB

info

– clearly and tightly arranged

With our new TOBinfo we give you an overview over our complete product range of stainless steel screws and fixings.
Clearly divided into the most important product categories,
quickly identifiable due to the marking of the materials in stock!
Besides fasteners of stainless steel A1, A2 up to A4, we supply many more products made of special materials
such as stainless steel A5 (1.4571), D6 (1.4462 DUPLEX) and A8 (1.4529 HCR).
Directly from stock!
Your contact person in Sales
More than 20 employees make up our sales team. The wide-ranging knowledge of our trained tradespeople and screw specialists not only allows us to send you tailor-made quotations
for your requirements, but also allows us to advise you on the current safety standards regarding the selection of materials and corrosion resistance classes. Whether you require DIN
or ISO screws made of high-quality stainless material, or threaded rods, nuts, washers or any other type of connecting element made of stainless steel or a special material; we have
over 25,000 items available directly from stock. From our premises and logistics centre in Öhringen, Baden-Württemberg, we ship our goods worldwide.
You can reach us from Mondays to Thursdays from 7.30 am to 4.45 pm and on Fridays from 7.30 am to 2.45 pm.
Alexander Gebert
Sales Manager. Export Team
Our export team will be glad to help you further if you are based outside of Germany. With our team of
Polish, Italian, Spanish, Serbia, Croatian, Russian, French and English native speakers, we support you
in choosing the right materials for your construction project or in procuring special parts.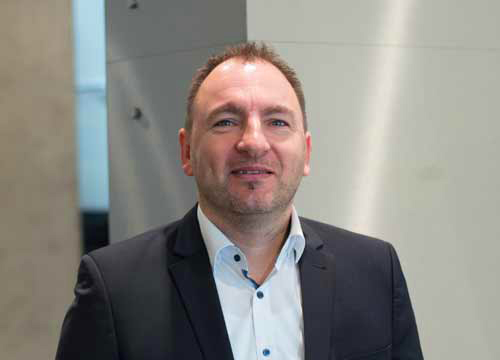 Ralf Schmidt
Team Leader Sales D - A - CH
If you are based in Germany, Austria, Switzerland or Liechtenstein, our Team Germany can advise you on
all matters. Our experts know all about our 25,000 items made of acid-resistant, stainless steel.
We will be glad to send you an individual quotation
for your enquiry.
Do you need some
immediate advice?
Then, feel free to call us on +49 7941 6073-0 or send us a message.
Just use this contact form or write us directly: sales@tobsteel.com