We.

A mid-sized business
in Öhringen
Our company first saw the light of the world several years ago. In 2004, we started out with two staff and a single idea.
Only a few years later, this had grown to a workforce of 75, of which around 10% were apprentices.
Even though our TOBteam has truly grown in size (and, because we attach great importance to junior staff, will continue to grow in future), one thing has remained the same since our founding days. We consider ourselves to be a family that values team spirit and, above all, fun at work. We do not know if we are unique amongst the companies located in Hohenlohe.
But we are definitely something special.
We love extremes. Raw climates, immense forces, special hygiene requirements and, not least, great responsibility towards man and material make up our playing field. We are a leading specialist for stainless steels and special materials in the area of high-quality connecting elements. 'Standard' is not a word that appears in our dictionary, because challenges make up our everyday lives.
If you would like to know more about our products and the areas in which they are used,
just take a look
here
.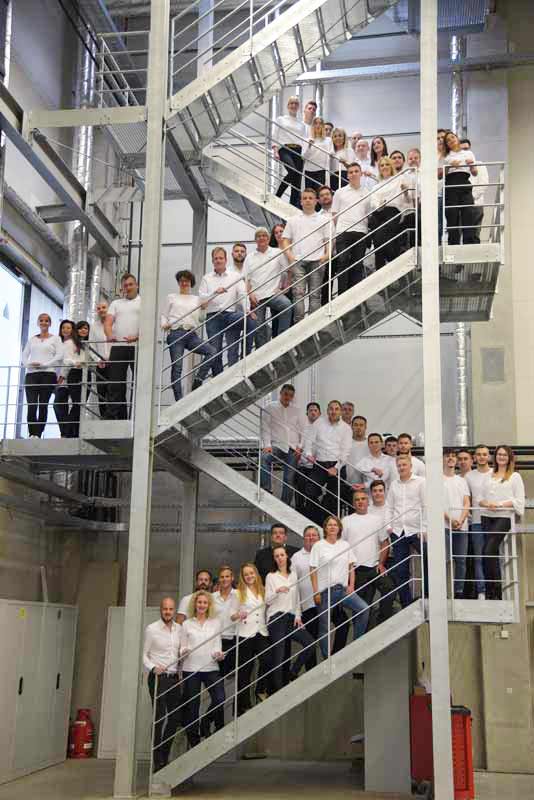 We.

 And perhaps you as well?
We let all our employees and customers feel what we live at TOBSTEEL: a true team spirit and enjoyment of our work every day. As a young, dynamic team, we have no time for hierarchies. And in the spirit of Albert Einstein, we are convinced of
one thing: "Creativity is intelligence that is having fun." That's why we like to meet with our colleagues for a round of table football during our breaks, and 'treats' are not just for Christmas and birthdays, but also for "in between".
Do you think you would fit in wonderfully with our TOBteam? Then take a look at our vacancies, because we are always looking for enthusiastic, highly motivated new people. And even if there are no jobs vacancies currently in Öhringen:
We look forward to receiving your open application!
We.

And our junior staff.
As a training company, the future of the young people is very important to us. Many of the professionals who enrich our TOBteam today have completed their training or apprenticeship with us. And have stayed. Every year, we train a variety
of different professions. If you would like to know more about the training at TOBSTEEL, jobs in Öhringen, jobs in Hohenlohe and career opportunities, just take a look here.
Small to medium-sized businesses in Öhringen are traditionally very strong. Measured by the number of inhabitants,
the
Hohenlohe region
has the highest density of world market leaders in Germany. Our rural area is located in the
northeast of Baden-Württemberg with direct access to the A6 motorway. The big cities in the region – Heilbronn, Stuttgart and Würzburg – are to be found within a 100-kilometre radius of our location and the other companies in Hohenlohe.
You do not even need a car to go to your job in Hohenlohe: our company premises can be reached in a few minutes'
walk from the nearest tram station. And, if you have ever heard the name of our town somewhere else: Öhringen
hosted the "Landesgartenschau" state horticultural show in 2016.