Stainless steel in 
timber construction

 –
A secure connection
Wood is probably the oldest building material known to humanity. This renewable raw material for the timber construction buildings has been in use for millennia. This near-natural building material is also experiencing a real renaissance even in our own time. Wood is extremely flexible, durable and robust – whether it is used on residential buildings (wooden facades, blinds, carport or deck) or modern wood engineering (warehouses, bridge construction, swimming pools and sports facilities). Whenever wooden structures are exposed to permanent moisture,
the connecting elements used, such as screws, nuts and threaded rods, take on a particularly important role.
And that's exactly where TOBSTEEL comes in.
The right wooden screw holds for decades.
A timber construction screw serves for permanently connecting of wooden elements in timber construction. The right choice of connecting elements requires special attention, especially in the case of structures with large spans. This is because if wooden structures are permanently exposed to increased levels of humidity, the metal connecting elements used can corrode. Incidentally, the same applies if wood preservatives containing chlorides come into contact with moisture, or contamination with spray that contains chlorides (for example, in wooden noise barriers at the sides of roads) takes place. The connecting elements in the wood rust due to corrosion, which causes them to break and ultimately the connection breaks. The use of corrosion-free wood screws outdoors is indispensable for this reason!
The correct screw for swimming pool construction
In swimming pool construction, the success of the entire construction depends on the choice of the right screw. Since a swimming pool is permanently subjected to high levels
of humidity and also exposed to an extremely high corrosive medium in the form of chlorine gas, connecting elements can rust very quickly here. Since swimming pools are
mostly structures that have a large span, the danger that can be caused by defective screws is particularly extreme here.
This is why ceiling fixtures and fasteners for load-bearing timber construction elements in swimming pools in General Building Inspectorate Approval Z-30.3-6 are prescribed
with the corrosion resistance class CRC V (= 1.4529). Only these materials ensure a stable, durable and safe connection of the timber over decades.
Stainless steel in deck construction
When laying a wooden deck, you should not just use any wood screw. Special deck screws for deck construction are the first choice for hardwood! Extremely hard wood, which is used in deck construction (including Bangkirai), requires extremely strong connecting elements.
Our special Quadra Speed® deck wood screws featuring convenient square threads can be used particularly easily here and without any pre-drilling and guarantee a permanently rust-free screw connection thanks to nickel-free, martensitic material 1.4006.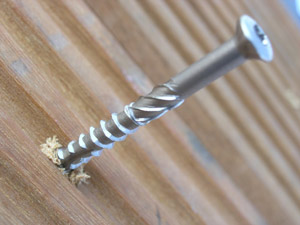 From the screw for your wooden house to the special attachment for demanding wood engineering:
We are a leading specialist for matching screws and materials. We have the right material in stock for all corrosion resistance classes(CRC)!
Do you have any questions?
We would be happy to provide you
with advice on choosing the right
screw for your project and design
the optimum corrosion- and acid-resistant screw connection together with you.
Then simply give us a call or write us
an email. We are looking forward to receiving all your enquiries!